Mandala Living is running a few small intimate Women's Relaxation and Restorative retreats throughout the year.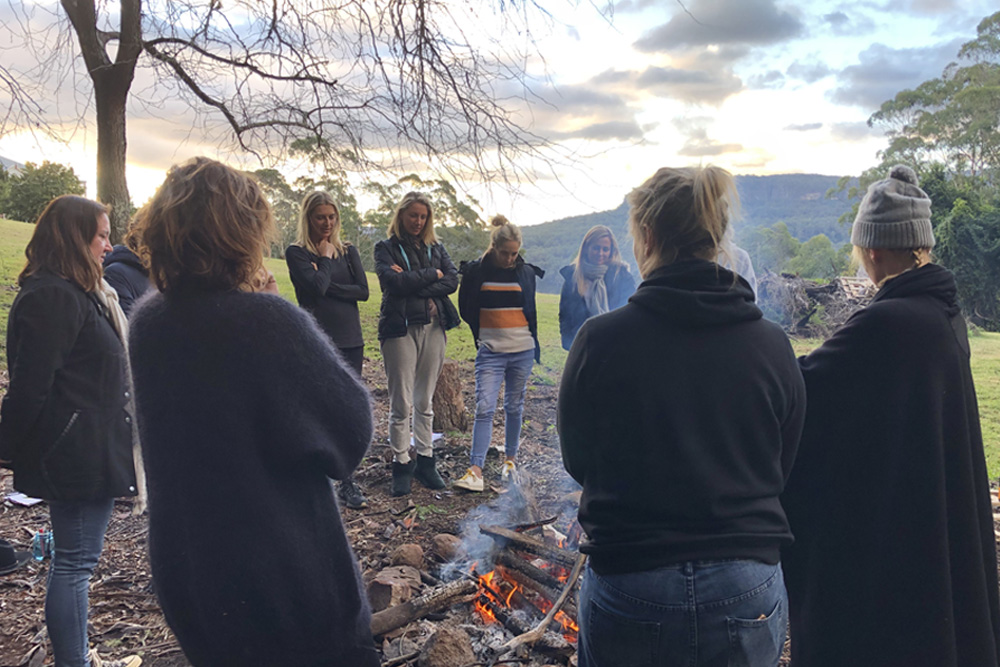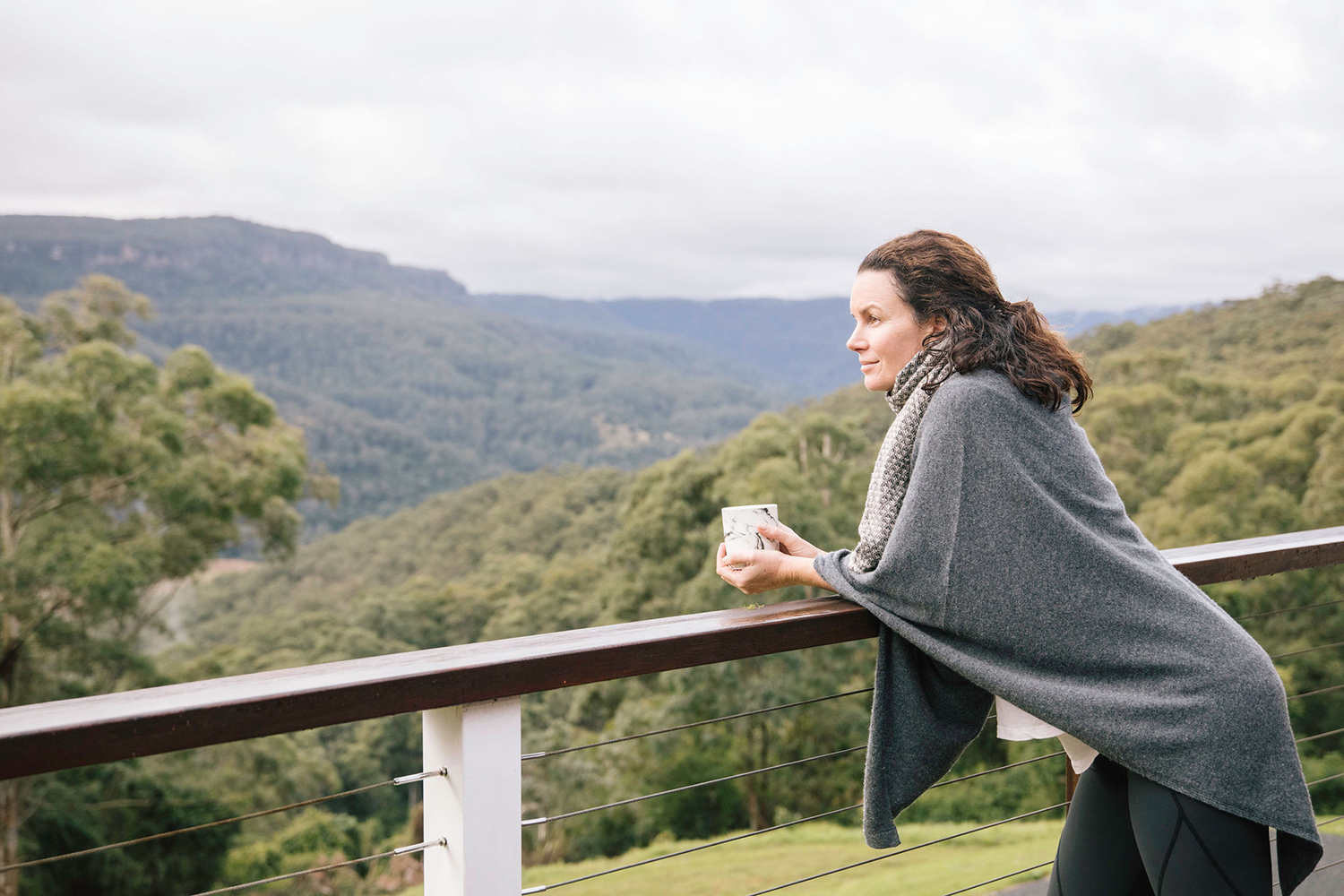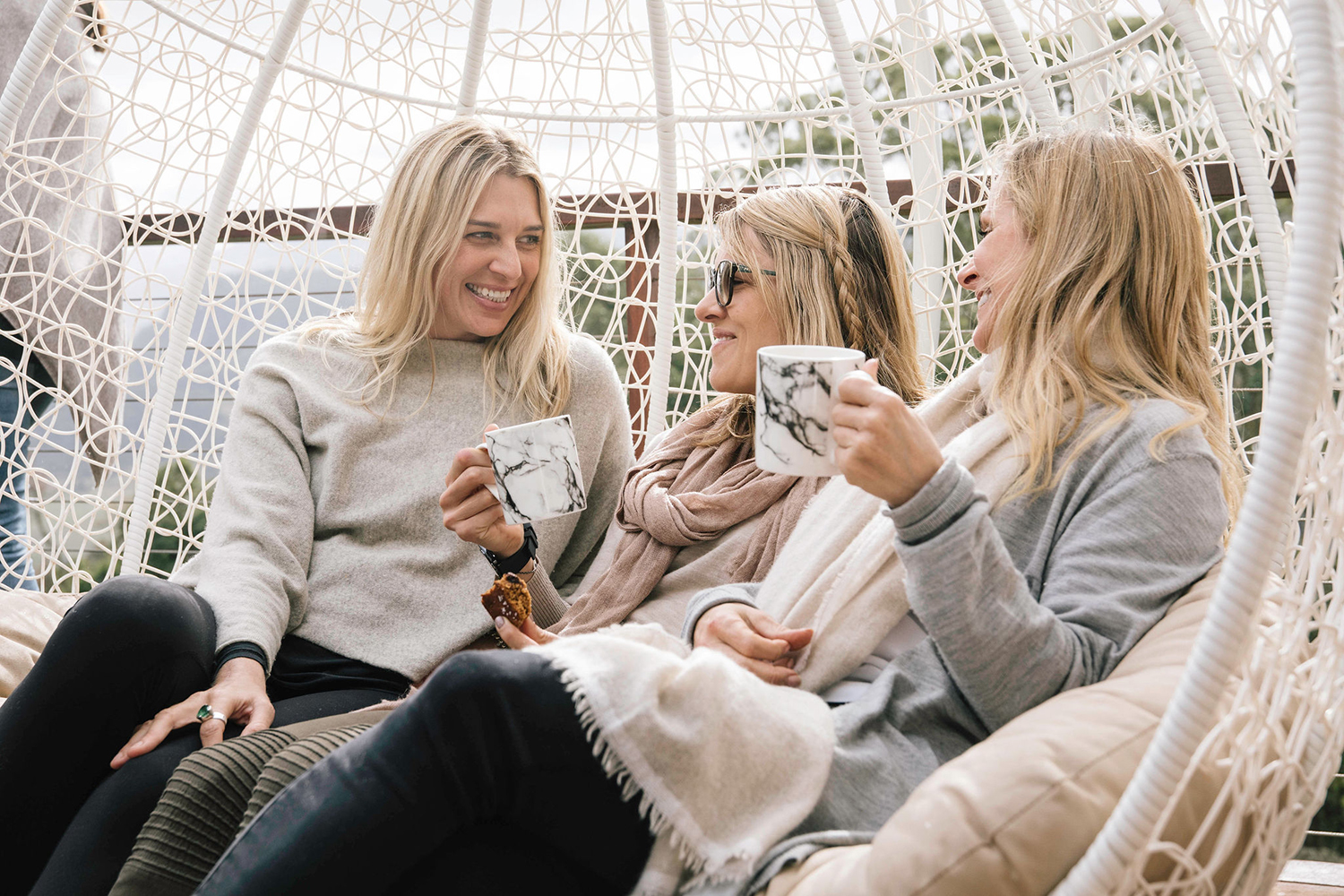 If you are in need to a little self care and want to RESET, or want to give a gift to one of our Day retreats or Weekend Retreats for 2020, we are now taking bookings for April and we also have gift vouchers. Click here for more details.
Retreats aren't all indulgent pampering, they are a chance to shift from busy doing mode to being mode.
The word retreat comes from the Latin verb 'to pull back, to withdraw.' Going on a retreat is like hitting the pause button.
SLOW DOWN:  unplug and rest (no cooking or cleaning – yay)

GET CLEAR: it's all about you – what do YOU want in your life!

LEARN: tools and techniques to integrate

CONNECT: with like minded women

BREATHE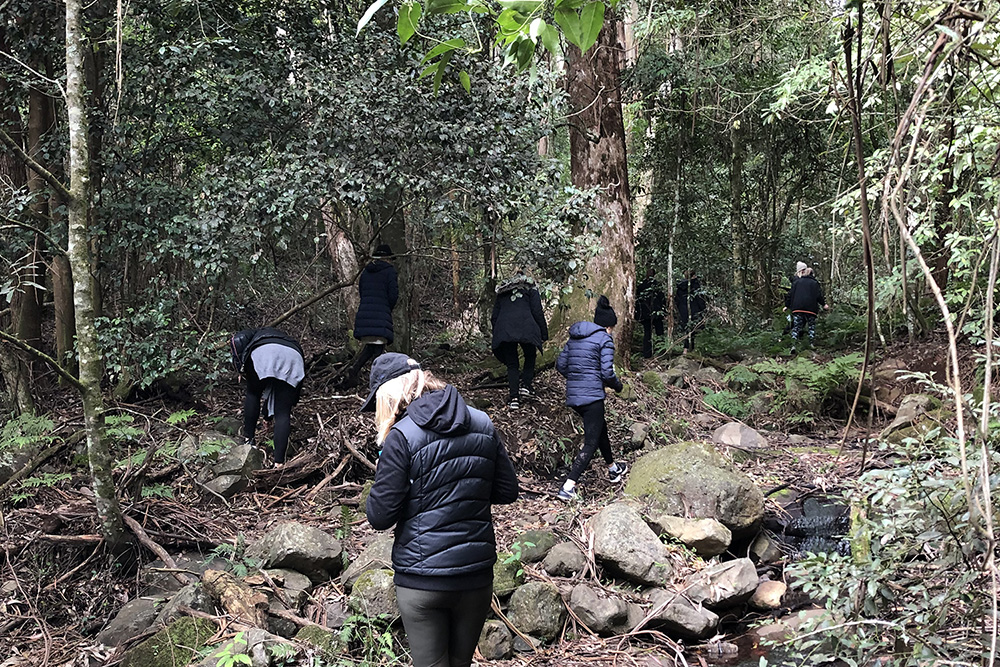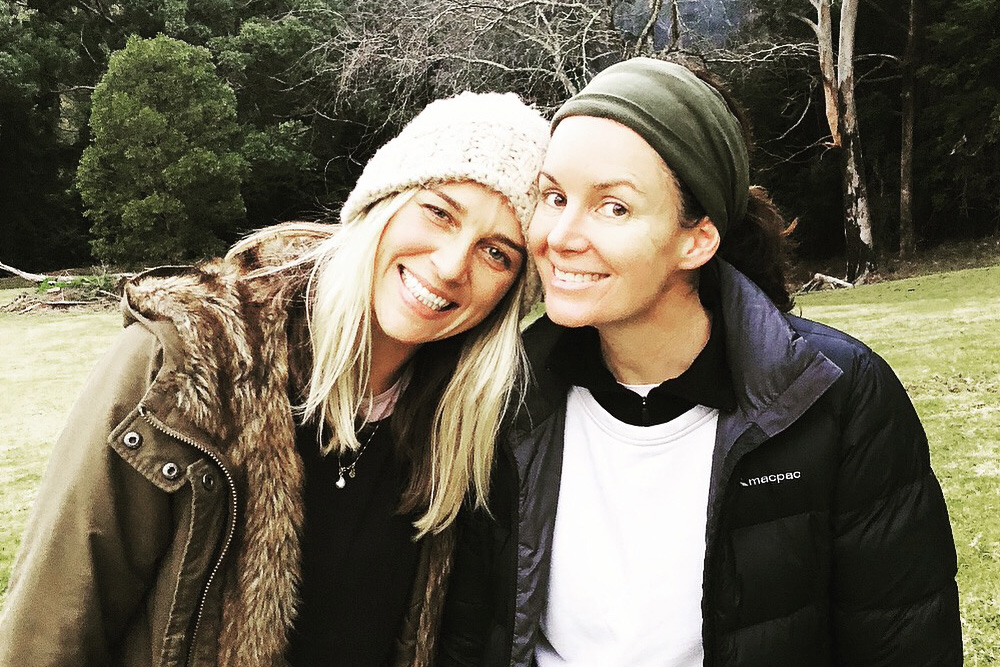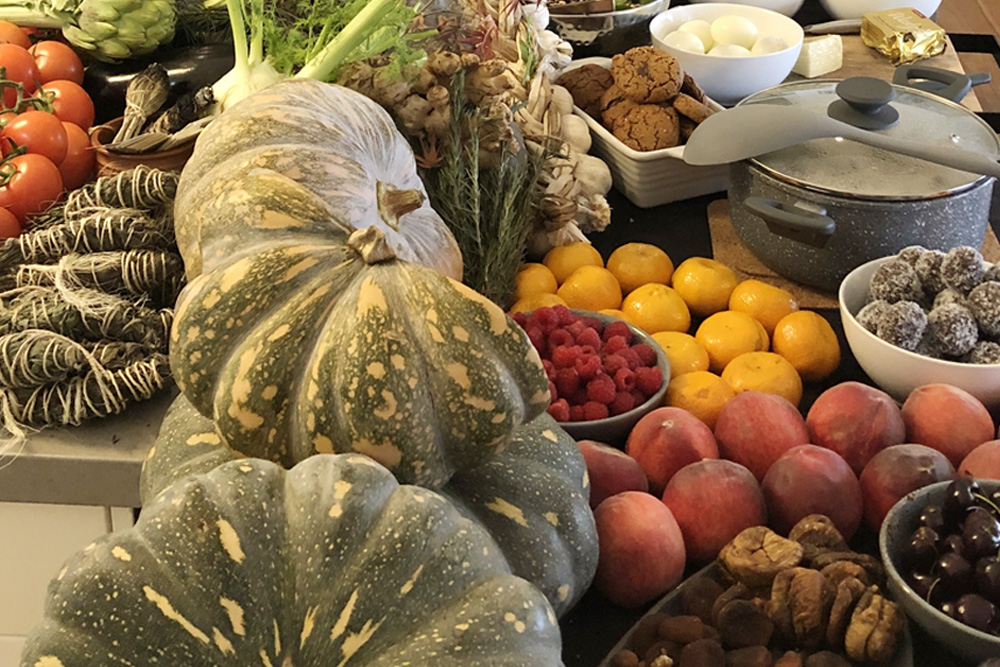 "The best investment you make is in yourself."
– Warren Buffet
"Ahh the serenity. What a special time i had amongst the trees, eating delicious and nutritious food and enjoying all the activities including bush walking, yoga and journaling. If you need to unplug, then Kirsty and
Tara
's retreats are highly recommended."  – Penny
"Getting out of Sydney for the weekend into Nature with a gorgeous group of like-minded women was just what I needed as I was feeling overwhelmed with work, kids and away husband travelling. It was time for
 ME 
to Relax with Meditation, Yoga, Nature walks, someone else cooking delicious healthy meals and having lots of cups of teas. I loved doing the workshops to gain some perspective of what I desired/needed to return home ~ I often look at my notes from the Retreat. Thank you for a magical weekend Kirsty and 
Tara"
.  NAMASTE – Lulu
"Thank you Kirst and Tara for such an incredible retreat last weekend. It created so much 'space' and it allowed me to unwind, eat deliciously healthy food and still have a great laugh / chat with like minded women over a vino! The peaceful location , bushwalks, meditations, gentle yoga, Fire side Mandala drawing sessions, setting intentions and goals all helped to rest, restore and reinvigorate me for the next few months as a mum of three active boys! Our hosts Kirst and Tara were unlike other retreat hosts- they were very relaxed, flexible,unobtrusive, supportive and made us laugh too! It was a fantastic atmosphere where you could do as much or as little as you wanted to each day. If you are craving some time to pause, reflect, enjoy being present and rest then I highly recommend one of their retreats! Thanks guys x "
– Bin
"Tara & Kirsty designed and organised a weekend where I felt I reconnected with my body, mind & spirit. Not only did the retreat offer new learning for me in terms of an introduction to Yin and Japanese yoga but I also discovered the most delicious vegan food, prepared by Food Theatre that taught me the benefits of whole plant eating and simple techniques to bring out natural flavours within vegetables. The girls allowed a schedule that aimed for a balance of alone, down time and sessions where they lead mindfulness, creativity & movement. The accommodation and yoga yurt set in the picturesque Kangaroo Valley made the perfect escape from the busyness and stress of Sydney. Tara & Kirsty were the perfect hostesses pre-empting every need and able to engage in both teaching their craft, creating opportunities for stimulating discussion and conversation and guiding moments for rest, relaxation and restoration." – Julie
Women's Wellness Saturday Retreat
Date: Friday 3rd April 2020 – SOLD OUT
Date: Saturday 4th April 2020 – SPOTS AVAILABLE
Time: 9am from Palm Beach by ferry – until 4.30pm
Location: Currawong on Pittwater
A little about the retreat…

This eco beach retreat is located in a stunning National Park, a short 25 minute ferry ride from Palm Beach. As soon as you arrive you will feel a million miles away.
YOGA  •  MEDITATION •  CHEF PREPARED MEAL •  NATURE ACTIVITY •  QUIET TIME •  CRAFT •  FUN
SLOW DOWN  •  GET CLEAR  •  CONNECT  •  BREATHE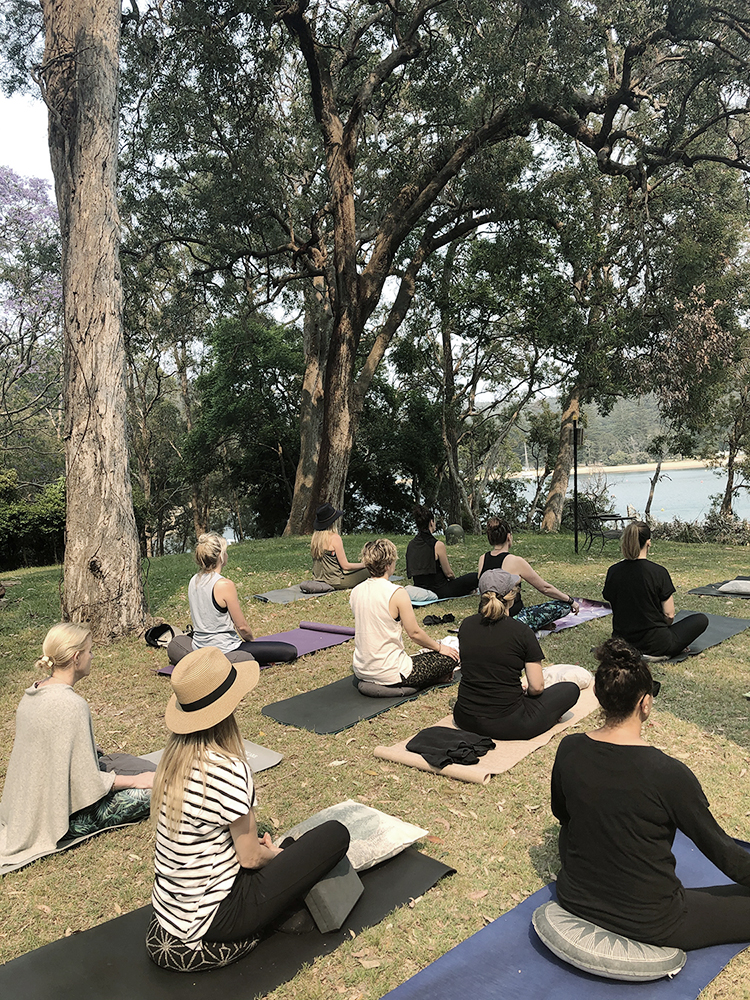 Women's Winter Weekend Retreat
Dates: 19 – 21st June 2020
Dates: 3pm Friday – 1pm Sunday
Location: Kangaroo Valley
A little about the retreat…

Join us for the winter solstice in the beautiful Kangaroo Valley, on 40 acres of unspoilt rainforest.
Take time to unwind, enjoy gentle restorative yoga and meditation classes, nature walks, nourish your bellies with delicious whole foods or choose to simply bathe in the beauty of the surroundings. It's not your average wellness retreat, there are no rules. Participate as much or as little as you like, you can even bring a drink to share over dinner.
YOGA  •  MEDITATION  •  WHOLE FOODS  •  CRAFT  •  NATURE  •  FUN
Women's Reset 'DAY' Retreat
With Kristie Christensen and Mandala Living
Dates: Friday 22 November 2019
Time: 9:00 am – 3:30 pm
Location: Coasters Retreat, Seabird, Coasters Retreat, NSW 2108
A little about the retreat…

Coasters is a short 15 minute ferry ride from Palm Beach  – a beautiful getaway in the Kurringai National Park. You will feel like you are a million miles away.
Our day retreats are designed to reset and restore. Nov 22nd is the perfect time to RESET before the busyness of the Christmas Season.
Our friends from Food Theatre will prepare delicious food. We have a fabulous day of yoga, walking in nature and meditation to share with you.
Of course, if you have questions please do not hesitate to get in touch.
We hope you can join us.
With love, 
Kirstie and Tara x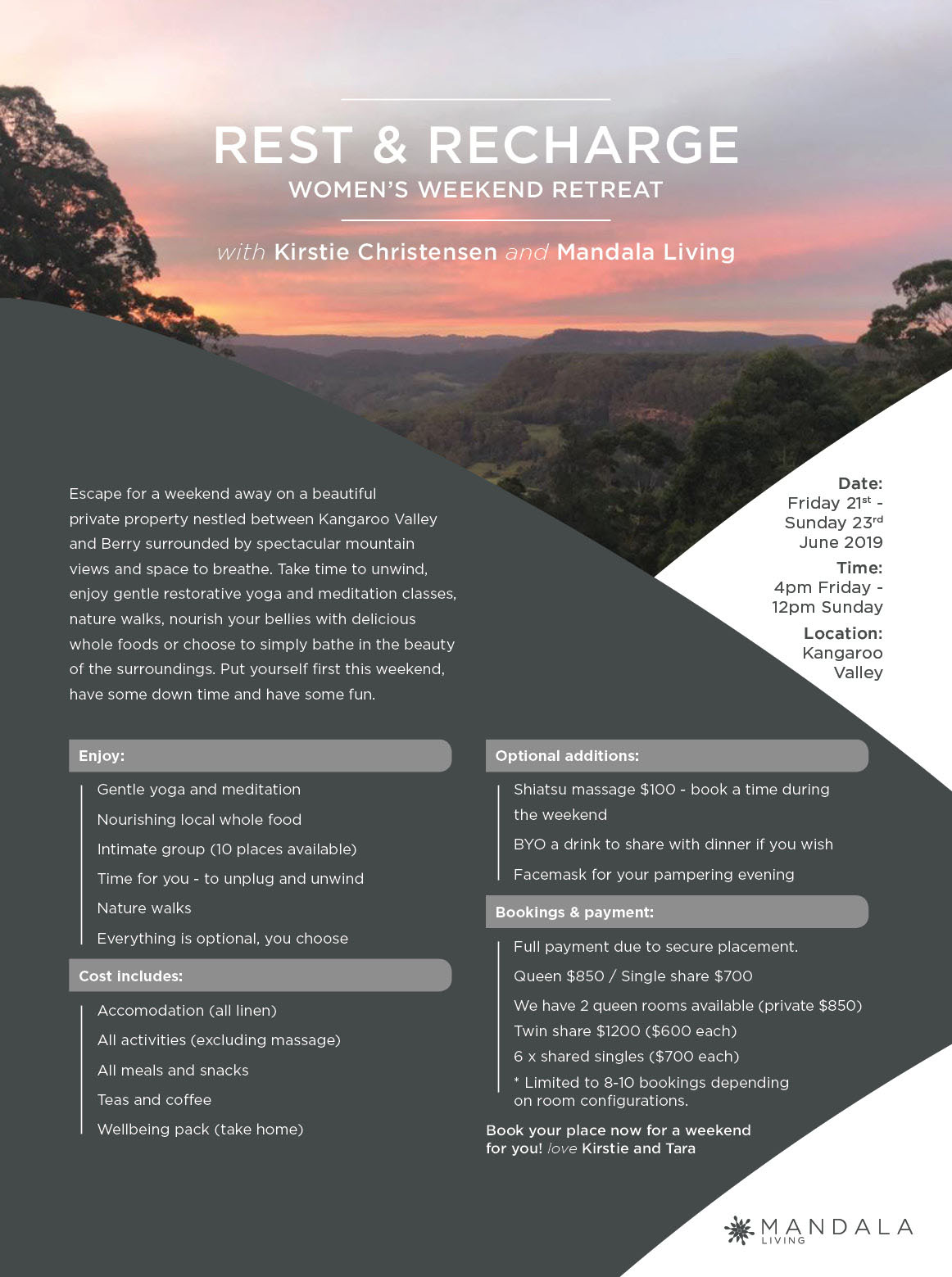 Rest & Recharge Women's Weekend Retreat
With Kristie Christensen and Mandala Living
Dates: Friday 21st – Sunday 23rd June
Time: 4pm Friday – 12pm Sunday
Location: Kangaroo Valley
Availability: Fully Booked